DIGITNOW Vinyl/LP Turntable Record Player, with Bluetooth,AM&FM Radio, Cassette Tape, Aux in, USB/SD Encoding & Playing MP3/ Built-in Stereo Speakers, 3.5mm Headphone Jack,Remote and LCD
Quick Code: 1000010





Summary: DIGITNOW Vinyl/LP Turntable Record Player, with Bluetooth,AM&FM Radio, Cassette Tape, Aux in, USB/SD Encoding & Playing MP3/ Built-in Stereo Speakers, 3.5mm Headphone Jack,Remote and LCD
---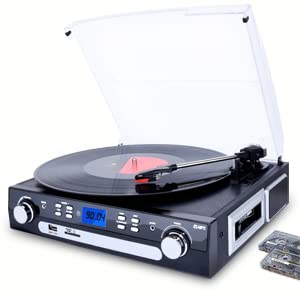 All-in-one record player
All-in-one record player delivers remarkable sound which would be full aroud your hourse. With bluetooth fuction, it supports to connect to external device wirelessly. Easy to integrates music into every aspect of your life - from tabletop to bedsides, from sunny mornings to rainy nights. (Please note: Long press around 5 seconds to power on)
Features:
Fit for 33 1/3, 45, 78 RPM

USB/SD/MMC for encoding & decoding

Semi-automatic play tone arm

Support bluetooth connection

Analog AM/FM stereo radio

Cassette tape playbackAux in and 3.5mm music output jack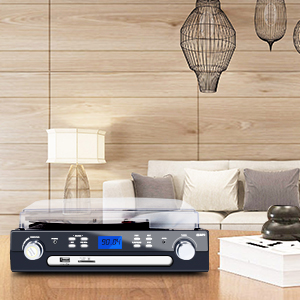 Start Up
1. Connect the power cord to AC outlet, Press the "Power/Volume " key a little longer around 3s then POWER will ON .
2. Press the SOURCE Key to PHONO, TAPE, AUX IN, USB&SD ,TUNER or BLUETOOTH function. Now your system is ready to play the music.
Bluetooth Function

Built-in Bluetooth Receiver lets you stream your music wirelessly to the DIGITNOW! turntable stereo speakers. And built-in analog AM/FM radio and cassette tape playback and stereo speakers.

USB Disk / SD Card Recording

Converting vinyl to MP3 with USB Flash Drive/SD Card directly. It also can play music from U disk or sd card.NO computer or software require.

3.5mm Music Output Jack

Support 3.5mm music output jack, you can connect 3.5mm headphone or 3.5mm home speakers or RCA home speakers. (connect RCA need 3.5mm to RCA convert cable, not included)
00000125487
0 reviews for this product.