8mm & Super 8 Reels to Digital MovieMaker Film Scanner Converter, Pro Film Digitizer Machine with 2.4" LCD, Black (Convert 3 inch and 5 inch 8mm Super 8 Film reels into Digital) with 32 GB SD Card
Quick Code: 1000112





Summary: 8mm & Super 8 Reels to Digital MovieMaker Film Scanner Converter, Pro Film Digitizer Machine with 2.4" LCD, Black (Convert 3 inch and 5 inch 8mm Super 8 Film reels into Digital) with 32 GB SD Card
---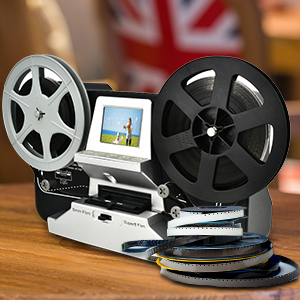 Your old Super 8 & regular 8 films are degrading. With the Super 8 Scanner reliving the past becomes so easy. This film scanner will help you to experience old memories without the expensive conversion. There are 32 GB SD Card, TV cable, USB cable, Using instruction, Cleaning cloth and Power adaptor in package, which means that you could just start scan directly and need not to prepar other tools for scanning
Now, transfer super 8 film to any Mac or PC device for saving, sharing and editing without regret









Convert Super 8 & Regular 8 films to MP4

You need to get an SD card(included in package) inserted before scanning. With 3.53 Mega pixels image sensor, just several clicks, this scanner could convert colour and black-and-white Super 8 & Regular 8 films to MP4 files in SD card.

Note:This item just supports the 32 GB SD card or below .

Connect to PC or MAC

When the scanning process done, you could either transfer your photos to your PC/Mac or you can use the included AV cable to view your movies on your TV. Backup the precious video on computer or share it with family or friends.

Scan and Playback

Built-in 2.4" TFT LED screen, this reel scanner is easy to operate. Besides, you could playback the scanned movie anytime you want in crisp, clear, high definition screen through the unit's colour display, no PC or laptop required!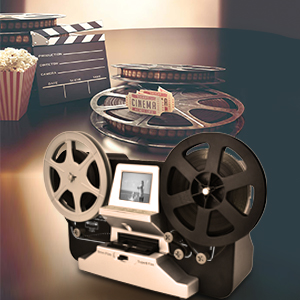 Product Specification
Interface: USB2.0

Display: Color 2.4〞TFT LCD

Exposure Control: Automatic / Manual (-2.0 EV~ +2.0EV)

White Balance: Automatic

Resolution: 1080P(1440*1080 30fps)

Frame Rate: 30 Frames

Film type: 5"&3" Reel 8mm Roll film & Super8 Roll film

File Format: MPEG-4 (MP4)

Product Size: L269 x W114 x H166mm

Weight: 1410g
Product description
Your old Super 8 & regular 8 films are degrading. With the Super 8 Scanner reliving the past becomes so easy. This film scanner will help you to experience old memories without the expensive conversion. There are 32 GB SD Card, TV cable, USB cable, Using instruction, Cleaning cloth and Power adaptor in package, which means that you could just start scan directly and need not to prepar other tools for scanning

Now, transfer super 8 film to any Mac or PC device for saving, sharing and editing without regret
0000070987
2 reviews for this product.