Rybozen 35mm Portable LED Negative Slide Viewer
Model:





Summary: Rybozen 35mm Portable LED Negative Slide Viewer
---
---
Product Description
Operation:
1.Push the On/Off Button to turn on the light.
2.To view a slide, push the slide into the Slide Entrance and view its magnified image through the Magnifying Lens.
3.To remove the slide, push the slide Ejection Button to eject the slide into the Slide Receiving Tray through the Slide Exit.
4.The unit is also capable of being used to view a roll of negative/positive film. Make sure the film is flat and then feed it through the unit, entering via the Film Entrance on the right hand side of the unit (with the Magnifying Lens facing oneself) and exiting via the Film Exit on the left. Move the film left or right to position the picture desired to be seen beneath the Magnifying Lens.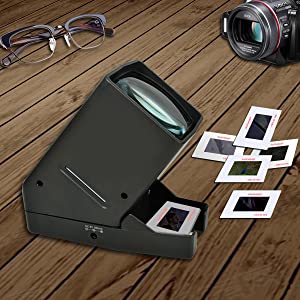 Cherishing your memory from a small slide.
Looking back on the past, there are always moments worth cherishing .And because of all kinds of life reasons, we may be busy with our own study, or busy with our own career, put them in a forgotten corner, come on, let us revisit these times that still make us tears .Our Rybozen 35mm Portable LED Negative and Slide Viewer allows you to recall the precious time in your memories from your 35mm slides and similar film negatives.you can just insert optional DC 6V 500mA adapter or 4*AA Batteries and behold your pictures in bright, vivid color ! After that the images can be lighted and tripled the size . Finally,you can enjoy the excitement of the memory like yesterday .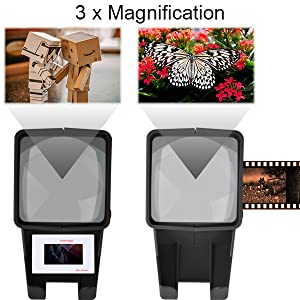 Make it amplified
The bad with old slides is too small,taking in the place of squinting ,users take a look at the projected images with 3X magnification because of an integrated lens.All different kinds of photos can be viewed as bigger without losing important sharpness or key detail.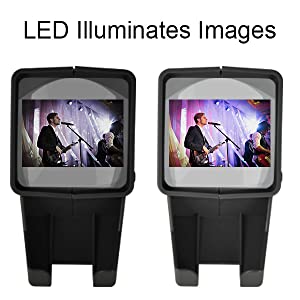 Built-in LED Light Box
Behind the huge glass viewing area are daylight bright LED bulbs ,those can illuminate soft images with maximum clarity and contrast.It's great for our user to view pictures anytime, anywhere.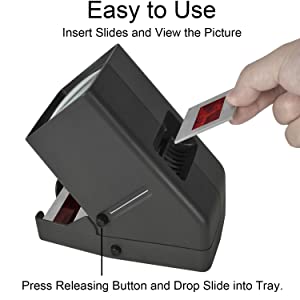 Load-and-Look More Easily
You can view some vacation photos, family portraits or birthday snaps in an instant by loading them one by one via slide slot or a film feeder , and you can press releasing button and drop slide into tray , so that you can change .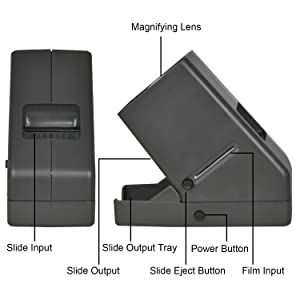 Specifications:
1. Super Bright: Fits 2X2" mounted slides and 35mm film strips and negatives.
2.3x Magnified Glass Screen: Bright and Even Lighting, No Color Cast, Cool White LED Illumination.
3.Convenient: Desk Top Portable Viewer, Have Eject Button and Slide Tray.
4.Power Supply: optional DC 6V 500mA adapter Or 4*AA Batteries (Included).
5.Note: the slide need to insert on the back of the viewer.
0000031544
0 reviews for this product.