Rybozen USB Hub 3.0, 7 USB 3.0 Super Speed Data Ports and 3 USB Smart Charging Ports, with LEDs Individual Switches and Power Adapter for Keyboard, Mouse, Printer, Hard Drivers and More USB Devices
Quick Code: 1000173





Summary: Rybozen USB Hub 3.0, 7 USB 3.0 Super Speed Data Ports and 3 USB Smart Charging Ports, with LEDs Individual Switches and Power Adapter for Keyboard, Mouse, Printer, Hard Drivers and More USB Devices
---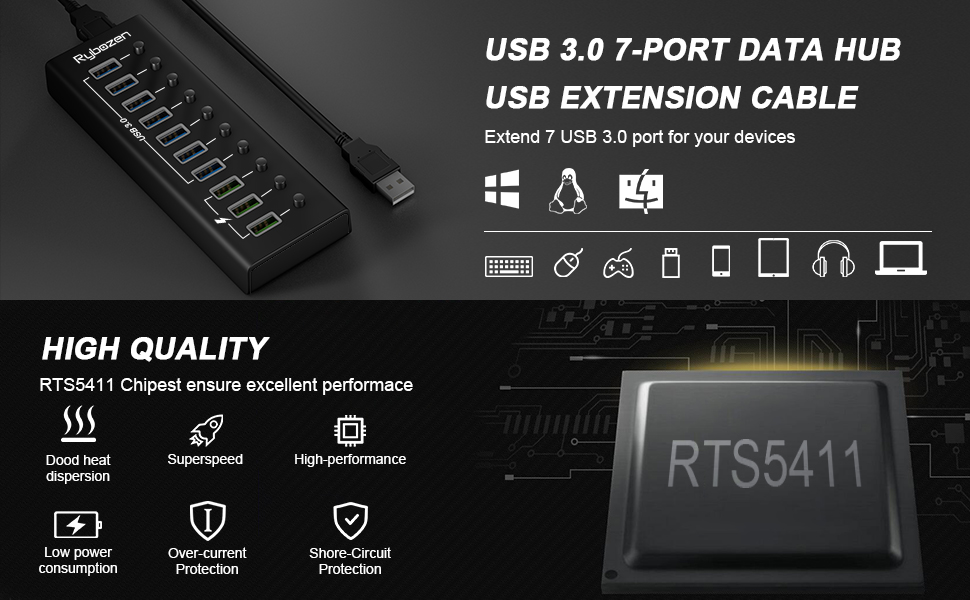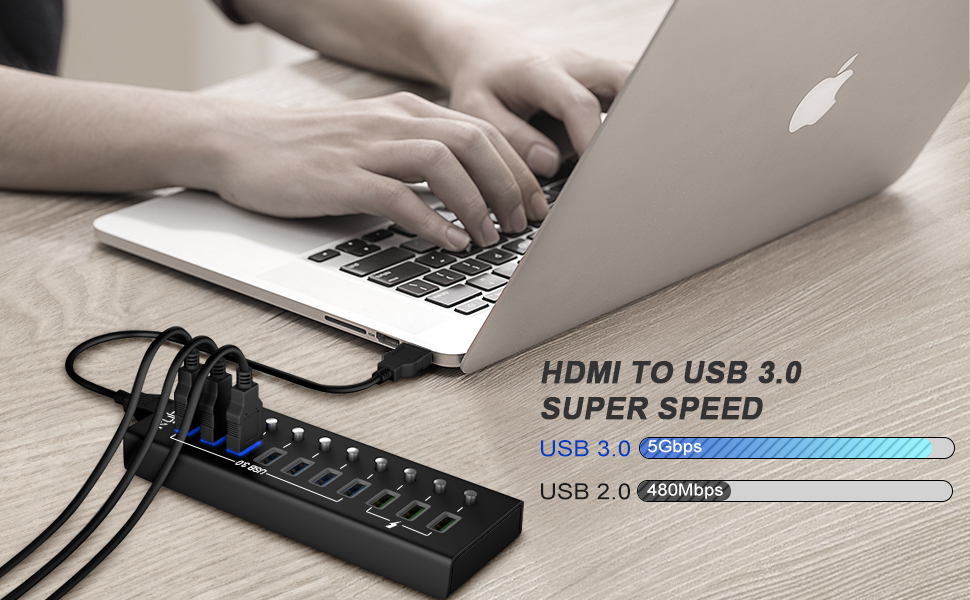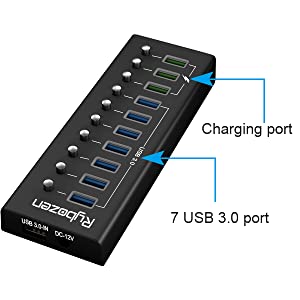 USB 3.0 Hub with Charging ports & Individual Switches
USB 3.0 Hub with Charging ports & Individual Switches: Expand one USB 3.0 port to 7 USB 3.0 data ports (for keyboard, mouse, printer, hard drivers and more USB devices, and synchronize data at top speed). It also provides three special ports for charging, which can provide the charging power up to 2.4A. for faster and safer charging of iphone, ipad and other USB devices.
Stable Power Supply

The DC 12V power adapter can offer extra power for this USB 3.0 hub when connecting high power consumption devices . and make the hub output faster and more stable. Compatible with Mac OS, Chrome OS, Linux, Surface Pro and Windows 10 / 8.1 / 8 / Vista / XP etc.

Smart Charging

The USB 3.0 hub with 3 charging ports. The charging port detects and optimizes the charging performance of your electronic devices for fast and efficient charging. With the power supply, it provides up to 2.4 amps, ideal for iPads, iPhones and other devices.

Individual Power Switches

The Usb hub with individual on/off switches to control each USB port. Easily to turn on or off the individual USB port without unplugging the equipment. Saving trouble and protecting each USB port from frequently inserting and unplugging your devices

000002586
0 reviews for this product.