DIGITNOW USB 3.0 HDMI HD Game Video Capture Card 1080P 60FPS Game Recorder Box Device Live Streaming for Windows Linux Os X System Xbox 360,Wii U,PC
Quick Code: 1000096





Summary: DIGITNOW USB 3.0 HDMI HD Game Video Capture Card 1080P 60FPS Game Recorder Box Device Live Streaming for Windows Linux Os X System Xbox 360,Wii U,PC
---
1080P 60fps HD Quality: With high speed USB 3.0 technology, support to capture and transfer 1080P 60FPS HDMI Video signal to your PC, Macbook and mobile phone. (with Type-C adapter)

Plug-N-Play: No driver required, true PnP. Game, meeting, live streaming with low latency. Transfer and share the video online. Perfect kit for presenting slides, spreadsheets, documents, and video remotely.

No Latency HDMI Loopout: Record audio & video from external devices via HDMI port. There is no latency when you are making a game live streaming.

Strong System and Software compatibility: Compatibility with Windows 7,8,10, Linux, OS X 10.9 and later. Work with most video streaming software, like OBS Studio, Adobe Flash Media Live, VLC and etc.

Package included: HD video Capture, HDMI to HDMI cable, USB 3.0 to USB 3.0 cable, Type-C Adapter, Using manual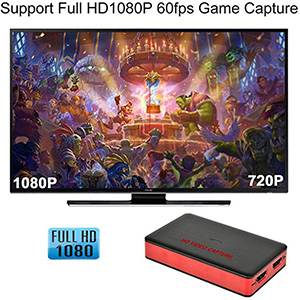 1080P 60FPS HD Quality:
Capture resolution up to 1080p at 60fps for 1080P video source with hardware accelerated up-scaling/down-scaling.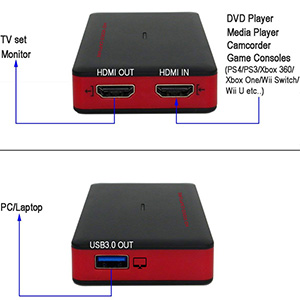 Universal HDMI Design:
Compatible with most HDMI output, so with one recorder you can capture footage from Wii U, Xbox 360, Xbox One, PS4, PS3 game consoles, laptop, DVD player, Media player, TV box etc., which has a HDMI OUTPUT port
Built-in a HDMI OUTPUT port, it is convenient for you to check the video or game on TV set at the same time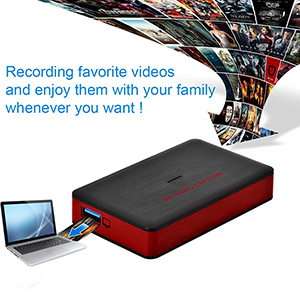 Video Recording:
Save and convert HDMI videos at 60Hz on computers and laptop. Create video in CDs to backup important event.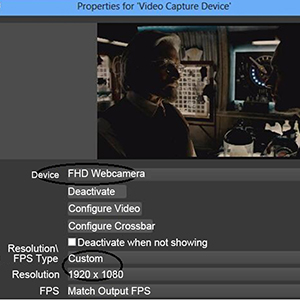 Step I:
1. Download OBS Studio according to your computer's operating system, and install it on your computer.Windows will install the driver automatically, and you will see 'FHD Webcamera' in device manager.
2. Run OBS Studio, Click '+' icon under 'Sources' window, and select "Video Capture Device", then select 'FHD Webcamera' in the drop box next to 'Device'.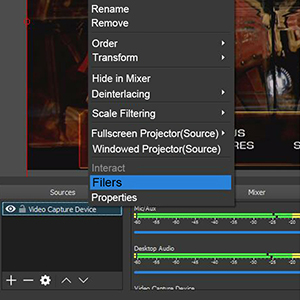 Step Ⅱ:
3. Set the video latency for make the audio and video synchronized:
3.1 Right click 'Video Capture Device' then click 'Filters':
3.2 Click to add 'Video Delay (Async)'
3.3 Set it to 470ms (You can adjust it smaller or bigger uttil you found the audio and video synchronized):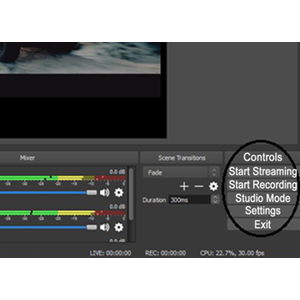 Step Ⅲ:
Then you can recording or streaming video.
(Attention: Work with other applications(e.g. VLC, Media encoder, Protplayer…):
Just run the application then choose capture device to 'FHD Webcamera'.)
000003762
0 reviews for this product.